Longtime part-time Red River resident Bonnie Barker, 85, passed away on August 19, 2017 in Wichita Falls, Texas.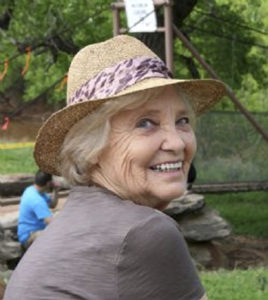 Bonnie was born December 29, 1931 to Jessie and Essie (Matney) Chapman in Sulpher Springs, Texas. Bonnie always loved the mountains of Red River, New Mexico. She met the love of her life, Oliver "Otto" Barker in Red River in 1953 and they were married Feb. 11, 1955 in Vernon, Texas. They ran the Black Mountain Playhouse the summer of 1956 and built their first cabin up Bitter Creek. They owned the Green Mountain Lodge, Beauty Shop and Laundry in the late 1960s. Otto built other cabins through the years while Bonnie worked as a stylist with Gloria Jean Gallegos at the Alpine.
She taught cosmetology in the Wichita Falls Independent School District before her retirement. Bonnie loved to dance with her husband and she traveled widely with her friends. She will be cherished for all the love given to her husband, children, grandchildren and great grandchildren.
Bonnie was preceded in death by her parents and her husband. She is survived by her four children; Craig Barker and wife Catherine MacDermott of Austin, Texas, Lou Baggett and husband Toby of Duncan, Oklahoma, Pete Barker and wife Debbie of Wichita Falls, Texas and Kathryn Traves and husband Craig of Amarillo, Texas; a brother, Danny Chapman of Georgia; nine grandchildren and four great grandchildren.
Memorials may be made to Hospice of Wichita Falls, 4909 Johnson Rd, Wichita Falls, TX 76310.
Funeral services were Aug. 22, 2017, in Lunn's Colonial Chapel with Rev. Jeff Sedberry officiating. Burial followed in Crestview Cemetery under the direction of Lunn's Colonial Funeral Home.