Late 19th Century prospectors used handmade skis to navigate but Red River skiing was more formalized in the early 1940s when L.S. Lewis brought some old oil-well equipment up from Texas and built a rope tow near the present Red River Ski & Summer Area's current beginner's hill. Rumor has it, the tow opened, and closed, Dec. 7, 1941. Word came the Japanese bombed Pearl Harbor and it closed for the duration of the war.
After the war, locals used a rope tow for fun. Red River old-timer Hank Mutz (who died Jan. 9, 2015) said Red River only had a dozen year-round residents, many of whom used to ski: "Nobody paid. Everybody went up and had a good time."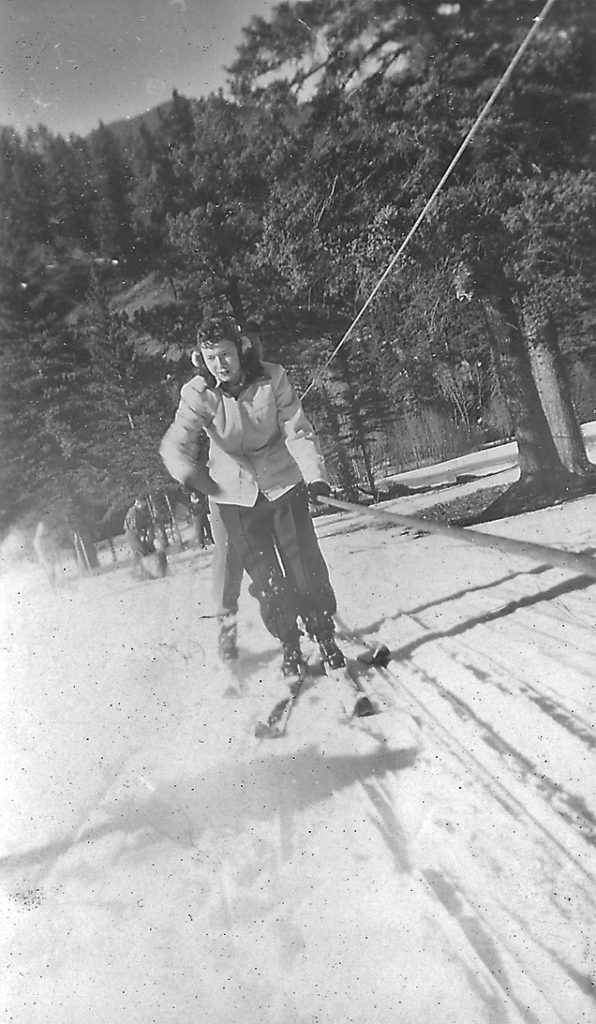 Hank's husband Johnnie (who died April 7, 2015) learned to ski as a true pioneer.
"I bugged the folks so much they bought me a pair of Montgomery Ward skis and they didn't have no bindings, they had a hole cut through 'em where you put straps through and wind your foot in it. So I'd go up in the woods there — never think about breaking a leg. Didn't have no ski poles, I took an old pitch fork handle. I didn't know how to stop or turn and the way I'd stop I'd just put it between my legs and sit down."
Red River Ski & Summer Area
Red River Ski Area was started by plucky Oklahoman Stokes Bolton, a man with an entrepreneurial spirit. The area opened in 1959 with a rope tow, a poma platter lift and a chairlift built using salvaged oil derricks.
Sigi Klein, former ski school director, recalled, "One Christmas in the early '60s, we had no snow and no snowmaking on the Bump. We were playing flag football on Main Street."
The late Johnnie Mutz, former ski patrol, and one of the locals who helped build the area — "Back then, coonskin caps were real popular with our kids. We told 'em that if they wanted one of them caps they had to be able to get down the beginner's hill."
When Bolton built the ski area, Red River was a summer resort — one that began not with Martha's Vineyard-type clientele, but Dust Bowl farmers seeking escape from the relentless heat of the Texas Panhandle.
The town would swell its numbers summer months, then empty the day after Labor Day, becoming so quiet dogs would laze in the middle of Main Street.
Many of Red River's business owners left town, too, boarding their windows up for the winter, and the few locals left in town did what they could to scrape by.
J.B. Veale took over ownership of the area in 1962.
Drew Judycki, Nov. 30, 1947 – May 26, 2008
In 1968, college student Drew Judycki went to work as a ski instructor at Red River Ski Area. He once noted, "I didn't really expect to stay, but I loved it so much. I just really loved Red River and the people were real friendly."
Other than a brief foray to Angel Fire Resort where he was ski school director for one season, Drew spent the rest of his life at Red River Ski Area where he worked as a ski school supervisor, marketing director, ski school director and general manager, before buying the area in 1984 with a group of investors. In 1998, Drew became sole owner, President, and General Manager.
Longtime friend and employee (the late) Bill Burgess said, "Drew had a great perspective on his skiing clientele. He knew in his head and in his gut what he needed to do for his customers. He knew he needed snowmaking and all his proceeds went into that. I think his thought was you can have high-speed lifts all day long and it wouldn't compete with what's on the ground."
In addition to buying state-of-the-art snow guns and expanding the snowmaking system year after year, Drew worked with town government to make sure it could provide enough water, and water pressure, to meet the demand. As a result, Red River Ski Area has opened every Thanksgiving for decades.
Former business parter George Blanchard said he once told Drew someone had expressed a willingness to make a generous offer on the ski area, to which Drew replied, "Not on your life. I want this ski area to go on forever."
Powder Puff Mountain
When Lester and Jan Lewis built E-Z Ski Area in 1962, they rented E-Z skis (a big ski in the middle with two skis on the sides, a seat and a handle for holding onto which you steered by leaning side to side) and inner tubes, or "whirly-birds." Whirly-bird customers were hauled up the mountain looking like cattle in small freight-cars on train tracks.
In 1964, Lester built a chairlift and changed the name to Powder Puff Mountain. Lester constructed the chairlift using parts salvaged from oil derricks, oil wells, and trailers that were used to haul bombs during World War II, among other things. The towers were originally natural gas pipelines.
On another slope, Lester also had a POMA platter lift — a spring-loaded bar with a saucer at the end which you stuck between your legs and rode up the mountain, your skis gliding along the snow.
Lester noted in winter 1970 there was "a race (between Red River Ski Area and Powder Puff) to see who could shovel it and put it in a pickup…. I shoveled snow from… all over. Once, David Stultz at the Ponderosa had a pile of snow out front and he put a sign up that said, 'Property of Lester Lewis'"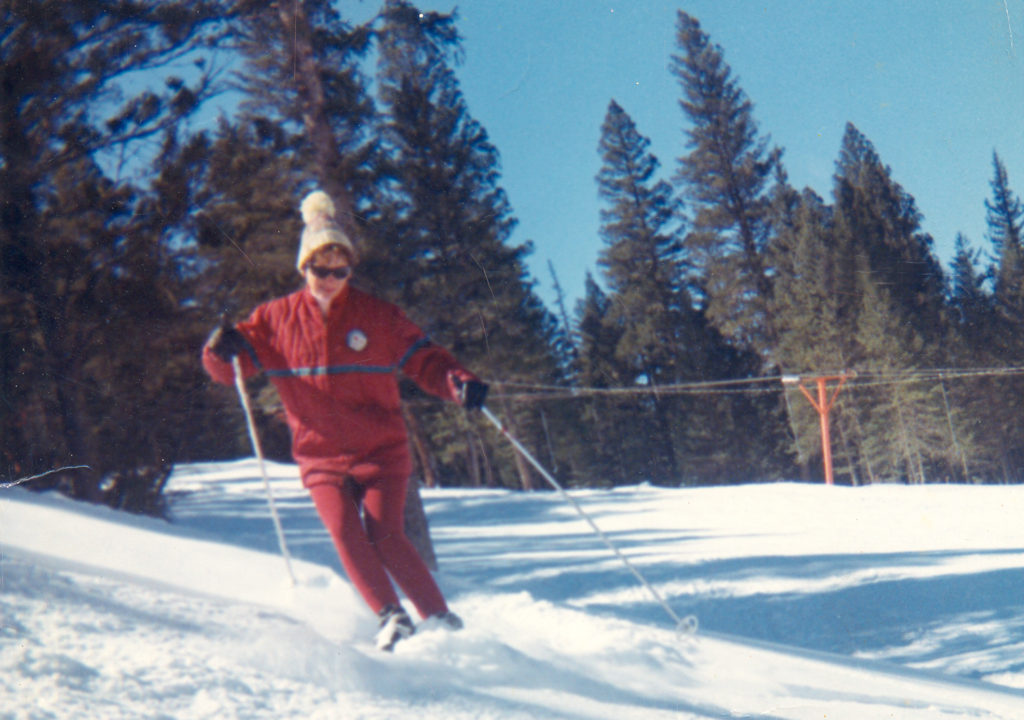 John and Judy Miller, and Gary and Fran Starbuck bought Powder Puff from Lester in 1970, the year after that disastrous snow year.
Powder Puff had 700-vertical feet, three rope tows and few runs and no trails to speak of — other than "Expert" which was so short you could go straight down without having to break into a turn before hitting flat terrain. Lift tickets were $6 for adults, $4.50 for kids. Lessons were $5. They used the 100-centimeter skis and Cliff Taylor's Graduated Length Method (GLM).
When the Millers and Starbucks bought Powder Puff, it had snowmaking (compressed-air and water). In fact, it was one of the first western ski areas to take that step. One year Powder Puff opened October 29 tying for first in the nation with Loveland in Colorado.
A brochure sported a picture of a snow gun blowing snow and the caption, "We make snow!" They knew it was a successful approach the day it snowed and a customer came in to complain.
In 1979, Powder Puff was sold to Red River Ski Area. It closed a few years later. Its rope tows and chairlifts are gone, its snowmaking compressor sold for scrap, its buildings dismantled, its slopes dotted with houses.
Enchanted Forest Cross Country Ski Area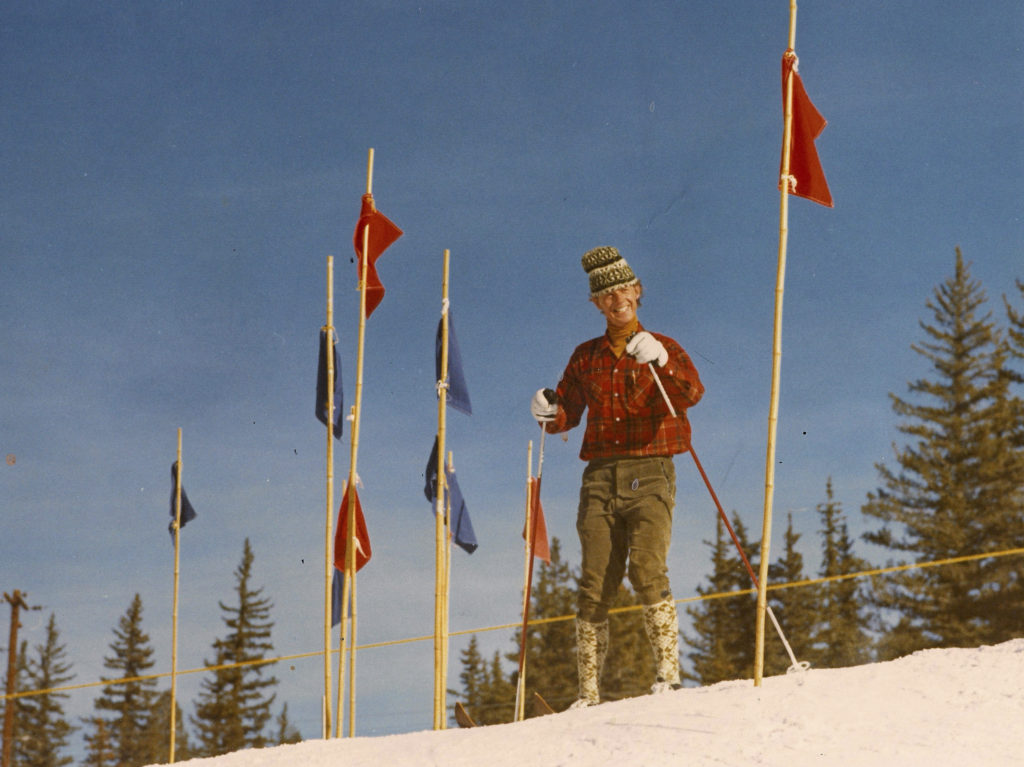 During the Powder Puff years, John bought a fleet of used wooden cross country skis from another rental shop in town and began teaching cross country skiing in Red River's backcountry, so when the area sold in 1979, it seemed natural to make that a full-time business.
He recalled the year "I'd spend hours foot packing tracks and a snowmobile would wipe them out so one evening I set a beautiful set of tracks across a beaver pond.… As we used to say in the Navy, 'Sighted sub, sunk same.'"
During his days as a backcountry guide, dad spent a week at Scandinavian Lodge in Steamboat Springs, Colo., learning from the great Sven Wiik, a longtime racer and coach of the U.S. Ski Team.
In spring 1985, a Cross Country Ski Areas Association convention at Royal Gorge in Truckee, Calif., inspired John to build a groomed ski area on a plateau atop Bobcat Pass. "With back country trips, people would finish the tour and say, 'Well that was fun but it's too much work.' We weren't getting people to fall in love with the sport — and it's a great sport!"
Enchanted Forest opened with about 10-kilometers of trails in winter 1985-86.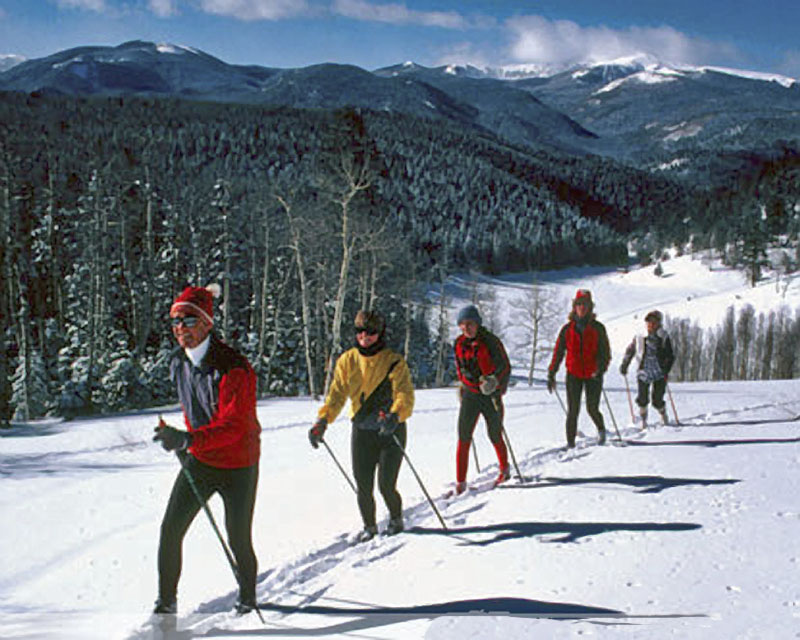 In the beginning, John groomed the trails and taught lessons but the area has grown enough that his role is now "official grooming inspector".
Judy also taught lessons and took women out for "Ladies Ski Tours" and, later, "Ladies Snowshoe Tours".
Today, Enchanted Forest is considered New Mexico's premier destination for Nordic skiing with customers from all over the world. The area, now owned and operated by Geoff Goins and Ellen Miller-Goins, has hosted the University of New Mexico Nordic Teams' NCAA Regional Race several times, along with a number of events like "Just Desserts" Eat & Ski.
Today, the area features 33 kilometers of ski trails, 15 kilometers of snowshoe trails and 5k of "dog friendly" trails.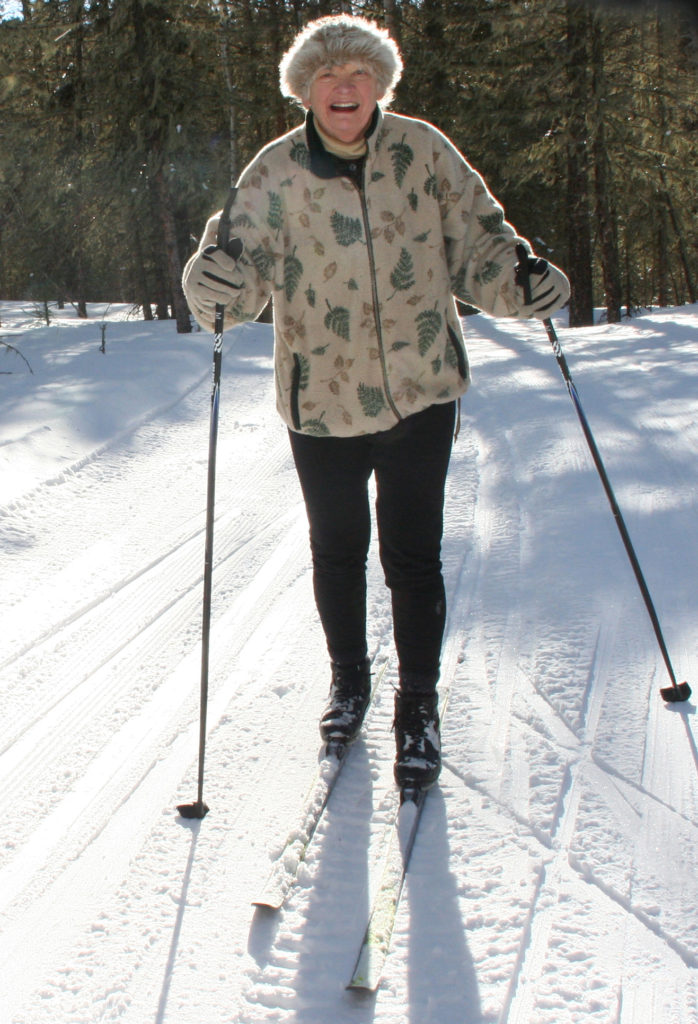 The gear got better…
The late Bob Prunty said he and brother George "used to have barrel stave skis. We tried to have skis like (Red River miner) Pete Deldosso. You took a flat piece of board and nailed a shaped piece of a 2 x 4 on the front of them to make the curve and used heavy canvas straps that you'd tie your foot into. Old Pete would pry cleats off the bottom of his skis when he was going to town and nail them back on to climb back up."
Later the brothers got "real" Northland wood skis.
Another Red River old timer, the late Johnny Brandenburg, also got his his first pair of skis at age 16 — "hickory Northland skis with bear trap bindings.
"We'd go over to Italian Park on the east side of the Old Pass and try to learn to ski. I ended up with a tree in my crotch. I stopped just in time. That was the trick — to be able to keep on your feet. We didn't use poles. We didn't know that you were supposed to have them. Eventually, I could turn."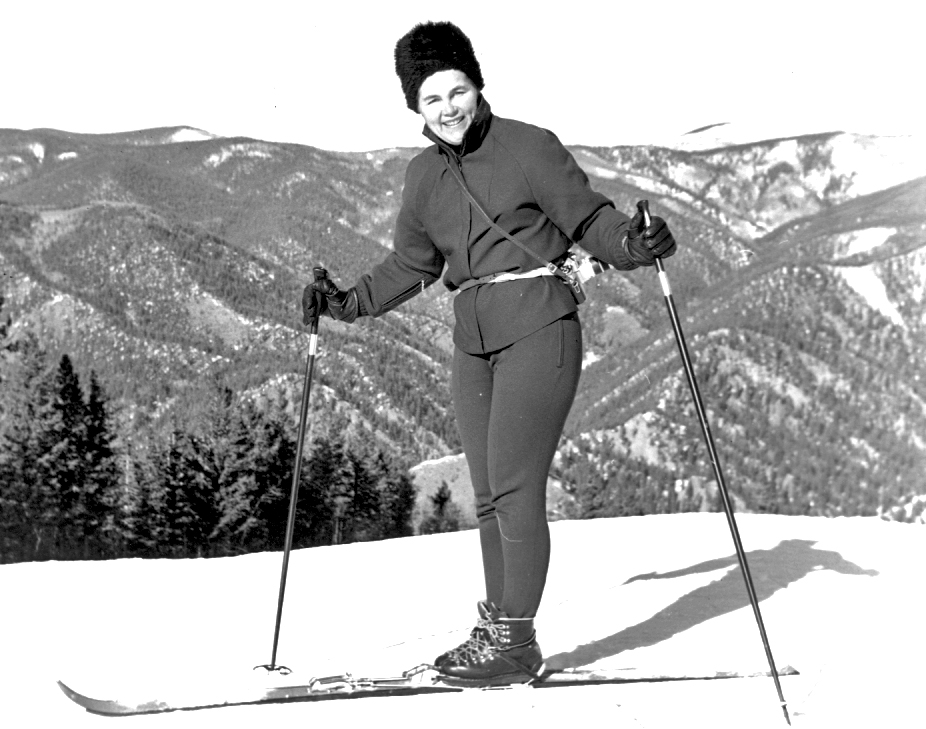 By the '50s and '60s, skiers everywhere donned wool layers head to toe and skied on wood skis that warped and splintered and needed to be waxed every few runs … with bamboo ski poles that frequently snapped in two and leather, lace up boots that stretched until they were pliable as slippers.
John Miller recalled wearing those "lace-up leather boots with a leather strap that wrapped around your ankle three or four times," along with "220-centimeter skis (a skier today might venture out on 165's) and bear-trap bindings. My friend Dan Dillingham got a double spiral fracture. He claimed he hit my sitzmark."
Sitzmark, by the way, is a word that's all but vanished from the skier's lexicon. But before machine groomers made the slopes nice and even, signs dotted the slopes which read, "Please fill in your sitzmarks!" Those holes you made when falling could be death traps for the next person to come along.
Cable "safety" bindings were invented in the late-1940s / early-50s, though injury rates didn't improve much.
Pat Lamb, — who opened a rental shop with 50 pairs of Head skis in 1968, and still owns All Seasons, Inc. (with over 1000 paris of skis) in Red River — says the old cable bindings made fitting skiers a challenge. "Everything was guess work."
All Seasons would have customers stand on the floor and try to pop out of their bindings. Pat would then tighten the binding by increments, and have them try again, until the setting seemed right. "There was no chart to go by, no standardization … and people would step on your hands."
Since those early days, ski gear has made quantum leaps in improvements, according to "A Short History of Alpine Skiing" by Morten Lund for the Winter 1996 Skiing Heritage.
Two broken legs in two seasons inspired Seattle skier Hjalmar Hvam to invent the first releasing toe piece and by the mid-1970s, the first step-in bindings to release "reliably" had arrived.
Skis improved too, beginning with the invention of wood-core aluminum skis by Howard Head in 1947. Plastic ski bases, fiber glass skis, continuous metal edges, shaped skis.…
Then came buckle boots, plastic buckle boots, tempered aluminum Scott ski poles, and ski brakes ("safety straps" sometimes meant your skis would slice and flail around you like ninja weapons).
Then there's ski clothes: In 1949, Aspen ski instructor Claus Obermeyer created an insulated quilted parka, which allowed skiers to abandon their layers of wool and yet ski warm, and body-hugging stretch pants offered by the Bogner ski clothing company in 1953.
Warmth — and sex appeal — replaced wet and wooly. People who say they miss the "good ol' days" must have selective memory!
— by Ellen Miller-Goins