Dale Ann Collier Tillery, 70 years young, went to be with the Lord on April 9, 2018. Dale moved from Lake Livingston Texas after 40 years of living on the lake to Red River, New Mexico in March 2015. She deeply loved her life with John, her home, friends and community in Red River. She became a member of Faith Mountain Fellowship Church.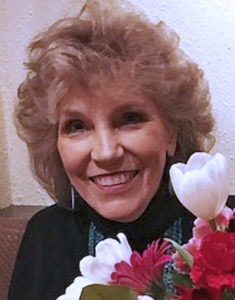 In moving to Red River, Dale had returned home to her native state. She was born Nov. 8, 1947 to Mae (Smith) and Robert Collier in Albuquerque. She is survived by her loving husband John Tillery, married August 23, 2014, and his 3 daughters Lisa, Dana, Zella and their families; her beloved sister Priscilla and (Paul) Gilberto of Colorado, and half-sisters Sheila Killingsworth of Washington and Nota Collier of New Mexico; her step-son Sean and (Lorraine) McKean and their son Chase of Texas; her Uncle Jack and Aunt Gynonne Smith of Oklahoma and their four children; as well as a number of lifelong friends that were her extended family.
Dale received her Bachelor of Arts from California State University, Los Angeles. She loved doing a wide range of arts and was an accomplished weaver, quilter and painter. Dale was an International Flight Attendant with Continental Airlines/United Airlines for 46 years (including 3 years at American Airlines waiting to be recalled from furlough). Her airline family was a very important part of her life. She made friends everywhere she went. Some very special ones became lifetime friends whom she loved and valued greatly as her extended family.
Dale was a member of First United Methodist Church in Livingston, whose congregation opened their arms to her and accepted her into their church home as she rekindled her walk in faith. Throughout her life she always had dogs they brought her great joy she especially loved her Bichons, Little Bear and Missy Poo.
There isn't a person that knew Dale who wasn't touched by her. She greeted everyone with her beautiful smile. She will be greatly missed.
Services were held May 4 at Faith Mountain Fellowship Church of Red River.